So remember like ages ago I got some brown Casacde Ecologial wool? It started out as the
Windowpane Coat
, as a sleeve of an
O.W.L.S.
sweater, and then at a loss about what to do with it I had a
survey
.
After the survey nothing really happened with it. Until this past Sunday. I gave up on Velia for a while. She's in time out. I was knitting Velia because I wanted a heavier sweater that I could knit quickly and wear while it was still cold outside. So the answer to that is the Shalom Cardigan.
I cast on on Sunday and last night I finished the yolk. My gauge was a bit smaller so I did have to cast on some extra stitches and also change the increases, but I'm loving it so far. I'm fairly sure I want it to be long sleeved which I thought might be complicated to do but the whole thing is really simple and ingenious! Plus I love a good twisted rib.
I did a bit of a photo shoot today, but Photobucket wasn't cooperating and I only got one picture uploaded...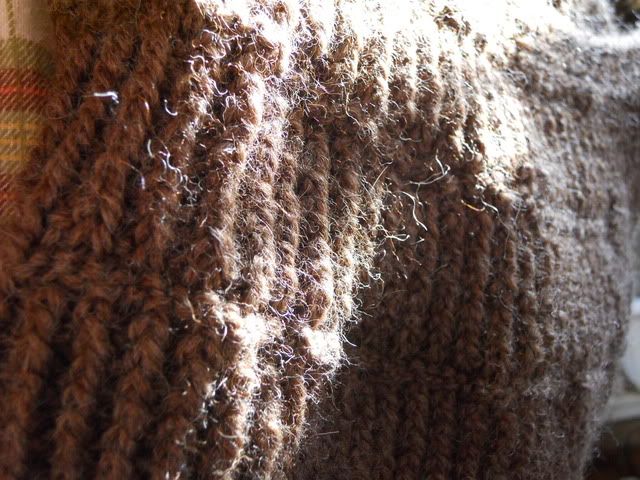 Hopefully this will go quickly and I'll have a finished product within the next week or so!