Ahhh, I almost didn't post this week! Well today was the end of a 50 hour work week! Tomorrow will be my first day off in a week and I'm planning on an all day date with my PJs and knitting needles.
So guys remember this?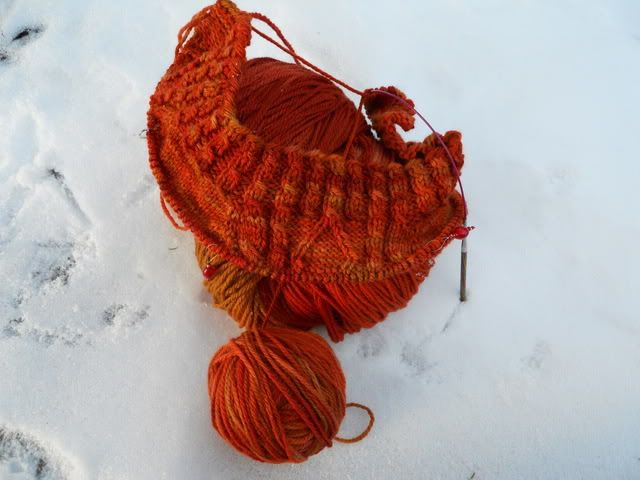 After several hours of knitting... it still looks like this. Why, you ask? Because I ripped it out after much knitterly denial. I cast on way too few for the neck line. I'm about at the same spot again... however... I think the neck may still be too small. x.x There goes about 8 hours of my life that I'll never get back... lol!
So in addition to uselessly knitting on my sweater I've been agonizing over what yarn I wanted to buy with my
$50
yarn credit from
Eat.Sleep.Knit
. I knew that I wanted enough sock yarn to make the
Honeybee Cardigan
[
Ravel it
!]. I saw this in person at Rhinebeck,
Jesh
knit one of the samples and is featured in the pattern. I've had my eye on it for a while, but when Cosmicpluto put up that part of her pattern proceeds would go to Haiti I knew it was the right time to buy it.
I also knew 2 things about the yarn I wanted. Well, I really wanted STR Medium weight, but that's a little too expensive for a sweater in my size! Anyhow, I knew that I wanted a color that would show off the unique stitch pattern, and I wanted something that wasn't a color that I had a ton of already. After much deliberation (much... I made a spread sheet, people) I came to rest on Malabrigo Sock in
Ravelry Red
. What I really wanted was the
Tiziano Red
, but it wasn't in stock and I didn't want to wait for it.. hehe.
And, since they give free shipping if you spend $75 or more I of course had to get something else! That was only going to be another $20 or so! So I got some Lorna's Laces in
Beverly
.
Super exciting!
Happy Sunday everyone!