Since I've lived with my boyfriend I've spoiled him with my cooking. In fact, he misses it when I'm done. One of the things that I've completely ruined for him is jarred spaghetti sauce.
This is my most recent version of my marinara sauce and I think it's the best. The combination of canned sauce and canned diced tomatoes gives it a 'cooked all day' texture. It's my favorite yet. =)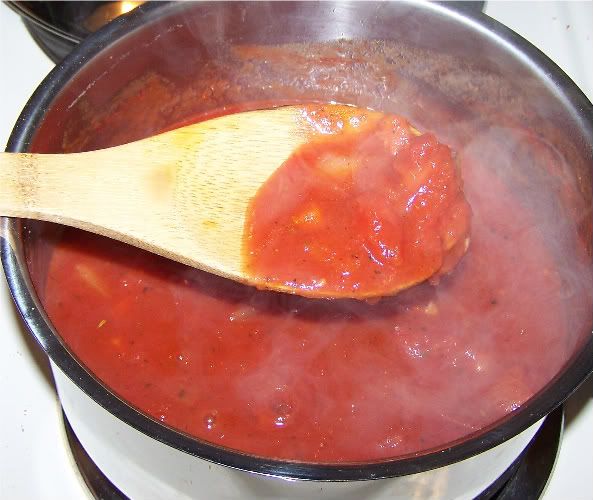 The camera flash made the steam look like smoke.



Marinara Sauce:
Ingredients:
1 14 oz can of diced tomatoes
1 8 oz can of plain tomato sauce
1 tbsp olive oil
1/4 c. white wine
1 large clove of garlic, minced
1/2 medium onion, finely diced
1 small carrot or 2-3 baby carrots, diced
1 tsp Italian seasoning (Dried herbs, usually includes rosemary, thyme, oregano, and basil, feel free to substitute fresh, although if you use basil you'll want to stir it in near the end)
A few dashes of hot sauce *Optional
Salt and pepper to taste
Directions:
Put 1/2 of the can of diced tomatoes into a food processor or blender and puree. Set aside. (If you don't want a chunky sauce, you can puree the entire can or just get all sauce at the grocery store, although the latter won't give you the same texture)
Heat a medium sized sauce pan over medium heat. Once it's warmed, add the garlic, onion, and carrots. Saute until the onions are translucent and the garlic is fragrant.
Add the white wine and simmer until it's reduced by about half. Add the 8 oz can of tomato sauce, pureed tomatoes, the rest of the 14 oz can of diced tomatoes, Italian seasoning, salt and pepper, and the hot sauce (I like to add the hot sauce because it gives the marinara a tangy zing, you could also use a pinch of crushed red pepper flakes or nothing at all if you don't like spice).
Let the sauce simmer for at least 10 minutes, longer if you like. I usually start a pot of water boiling when I add the white wine and let the sauce cook until the pasta is done, and then dinner is done all at once! Ta da! Delicious sauce you could never get from a jar!