As I noted in my previous post, I finished my second Ishbel with time to spare. It's a really graet pattern, and when you're not doing the shawl version it doesn't take much time to knit at all.
Unlike my
first Ishbel
, this one ended up a fairly large size. I used Colinette Jitterbug, which I wasn't completely sure about once I started. The color is absolutely gorgeous, I really love it. However, the yarn is super springy and very dense at 320 yds in 100 g (Normal sock yarn has 400+ yards in 100 g). Using a springy yarn like that, the lace doesn't open as fully as with other yarns. To correct this I ended up blocking the scarf within an inch of its life, using all 64 of my rust proof t-pins. It ended up being a shawlette size, when I was done and so far it's stayed about that size.
It's only outing
was to see Ysolda
, its designer. It's going to have to be put away for the summer, though. It's way too warm for it. I was thinking about taking it on the cruise with me (Squee!! I leave on Saturday!!) but I'm not sure that I have anything to wear it with.
In the past week I've completed 2 more projects. Just small ones, the sooper seekrit one that I can't reveal right now and also the
Under the Tree
Mitts (
Ravlink
) by fellow Raveller and CPaAGer
Erqsome
, but those are for another post (FYI I'm in love with them).
Ishbel Revisited: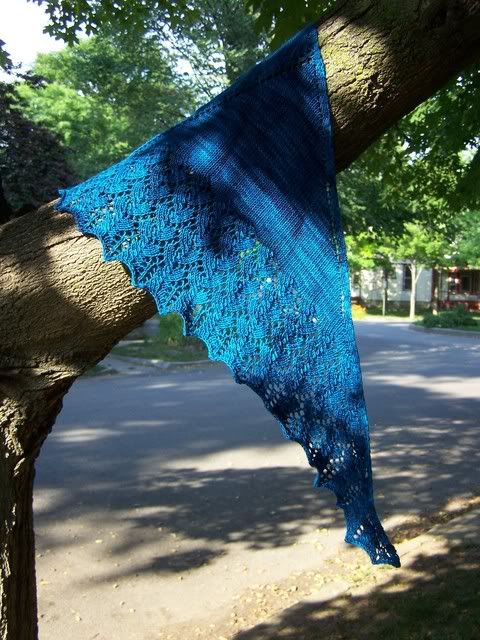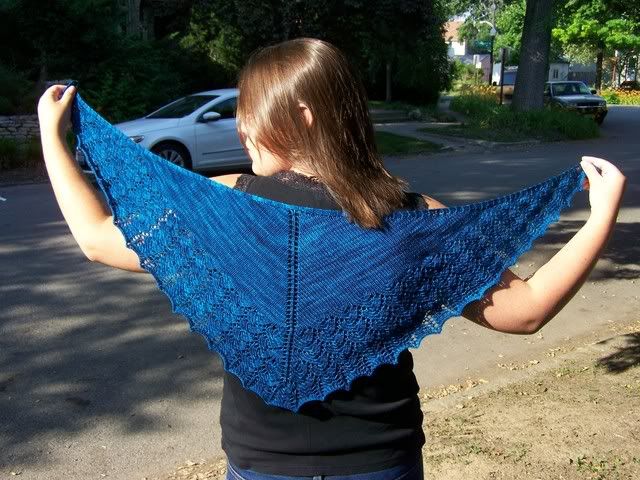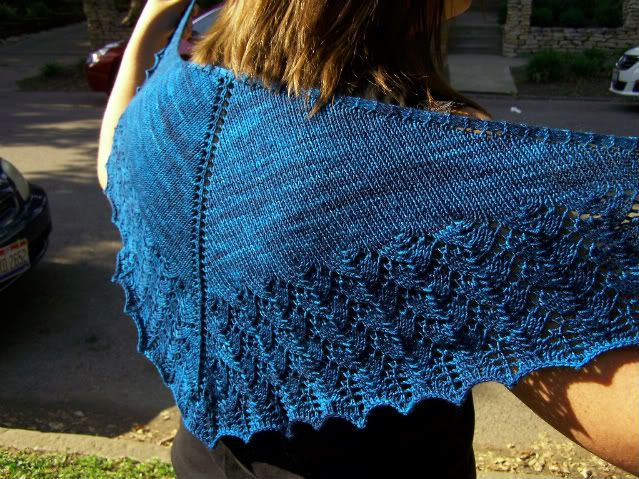 Stats:
Yarn:
Colinette Jitterbug, "Salty Dog"
Pattern:
Ishbel
by
Ysolda Teagues
Mods:
None, actually
Thoughts:
I love this pattern, the lace is really adorable and it's a fast knit. I'd recommend it to anyone. I've heard a few say that the lace isn't easy, but I disagree. The decreases all line up so it's easy to see if you've made a mistake and you're following 8 row charts, with 4 of them being return rows (all purl). It's quick and easy. I love it!