Today, dear readers, I will embark on a mission... Okay, not really. I'm flying to Florida today and tomorrow I'm boarding a cruise ship! So exciting!! =D
Okay, now for the knitting. First of all, I just want to say that I LOVE THESE MITTS!! They are quite possibly one of my all time favorite FOs. I don't know what it is exactly, the gray Malabrigo, the cute owl cable, or that they fit perfectly, or something else. I just love them (lets just say to the point where my boyfriend thinks I'm a little obsessed). Too bad it's too warm out to wear them! Oh well, I guess I'll just be prepared when the cold weather rolls around!
The first time I tried to knit these I used the suggested size 6 needles. However since I have wide man-hands, this didn't work out overly well and I ended up ripping and starting on a size 7. Ahh, much better. since my hands
are
so wide I ended up doing a round of increases after the ribbing as well. I increased 4 because I figured that would be enough so that the ribbing at the top wouldn't be a problem. However I forgot about the column of knit stitches going up the sides of the hand which put the second column at a purl part of the ribbing, interrupting it. It ended up being not so bad, so I didn't do anything tricksy to fix it.
I ripped back quite a few times on these mitts. Just a couple rows at a time, for the increases and I did the cabling wrong once or twice. Mainly just on the first mitt. I did the second mitt (mostly) from memory, using the first one as a guide.
Under the Tree Mitts: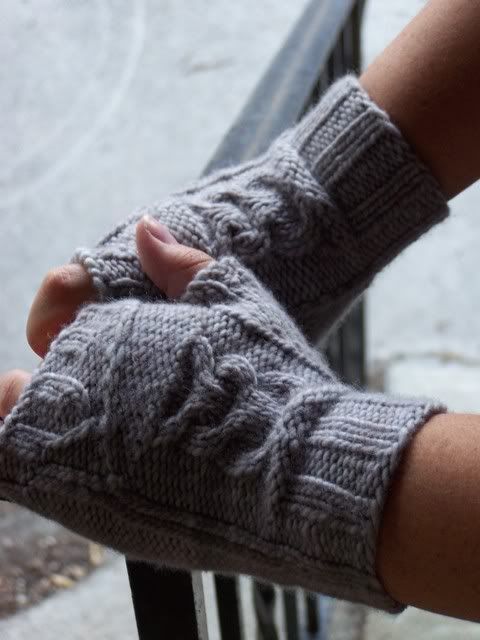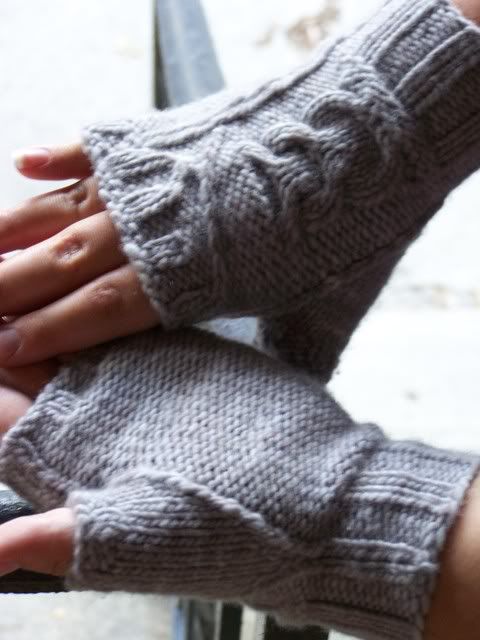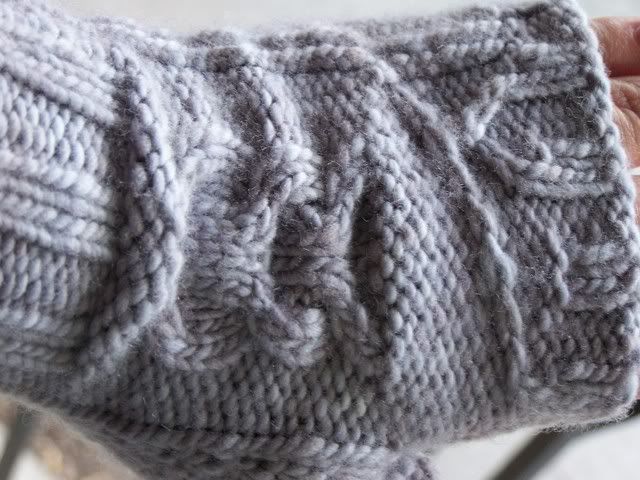 Specs:
Yarn:
Malabrigo Worsted, "Frost Gray"
Pattern:
Under the Tree
by
Erqsome
Mods:
I used a size 7 needle
I did 4 pfb on the second purl round after the ribbing
I used reverse stockinette on the palm instead of regular
I tweaked the tree branch cabling different to make up for the extra stitches I added
I used 2 x 2 ribbing on the thumb
I used a sewn bind off
Thoughts:
It's a really adorable pattern and I am in love with it! It's super easy and it was a quick knit. I started 6/19 and finished 6/22. Lovely. =)