Okay, so these socks I actually finished at the end of July for WIPs wrestling (they were the only things I finished in July.. sheesh). But I haven't gotten around to taking a FO picture for.. well.. only God knows why, really. Anyhow I've been wearing them whenever my feet get chilly and I just love them. I love the color and they're very warm. And not only were they finished 4 months ago, but they were actually cast on in March. How's that for a delay!
Leyburn Socks: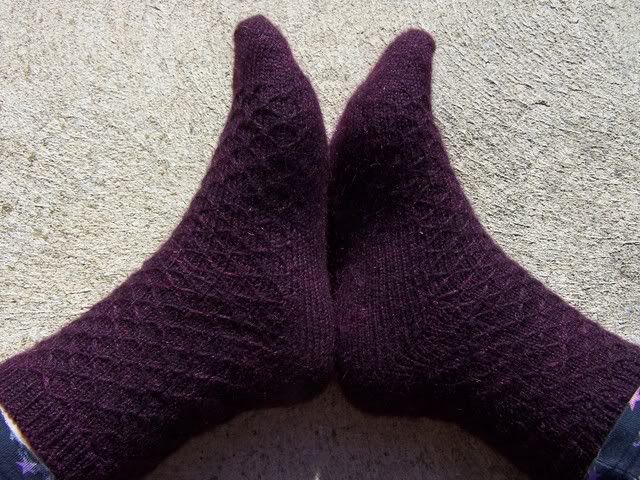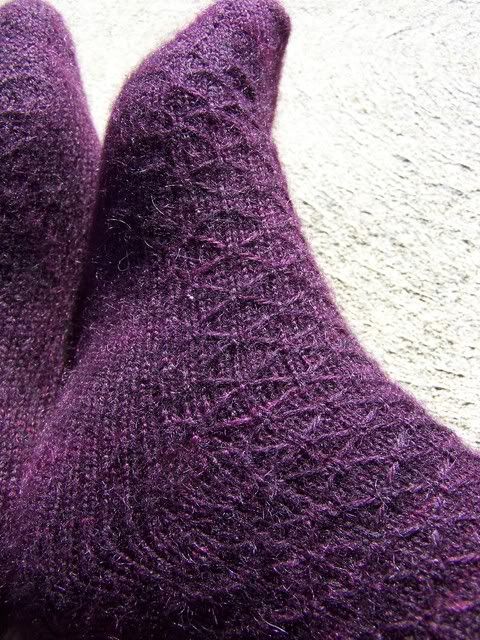 Specs:
Yarn:
Mountain Colors Bearfoot in Burgandy
Needles:
Size 2
Pattern:
Leyburn Socks
[
Ravel it!
]
Mods:
I started out with 10 sts at the toe and I increased more to accomodate the width of my foot, the extra stitched were on the bottom of the foot and not included in the quilted pattern. Because of the extra stitches I had to fiddle a little with making the pattern work after the heel, but it all ended up okay.
Thoughts:
The toe is too pointy or the foot is too long, one of the two (that's not really the pattern's fault)
The ankle is too wide, I'm pretty sure that this is because the pattern stated that the quilted/lattice pattern was not very stretchy so I wanted it to be a little bit big. The extra stitches I had from the foot accomplished that and now I wish I'd decrease a little after the heel.
My sewn bind-off wasn't tight enough. I was worried about making the bind off too tight so I didn't, and the extra loose bind off coupled with the too wide ankle make for a sock that's a little to stretchy
All in all, I love the yarn and I really do like the pattern, I just wish that I'd been a little bit smarter about it. These are quite lovely to wear, though so I will keep doing just that. ;-)

Also, the day of the photo shoot I was finishing up my mom's hat and I noticed that the yarn was almost the exact same color as my socks. Check it out: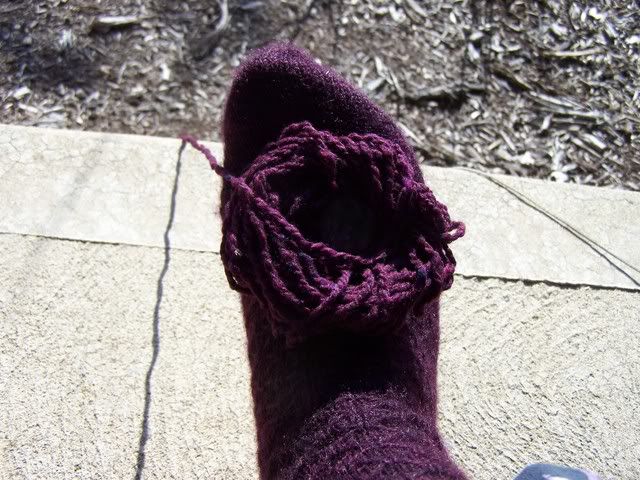 I certainly do have a color palate.