Okay, so, you can't say you didn't know it was coming. It happens at the same time every year. The holiday most knitters love and dread simultaneously: Christmas. I hope that everyone has at least started your Christmas knitting, unless, of course, you want to stay up all night Christmas eve weaving in ends and blocking gifts on the floor vents (Not that I've done that... *cough*). I
mentioned earlier
that I've got one Christmas gift finished already.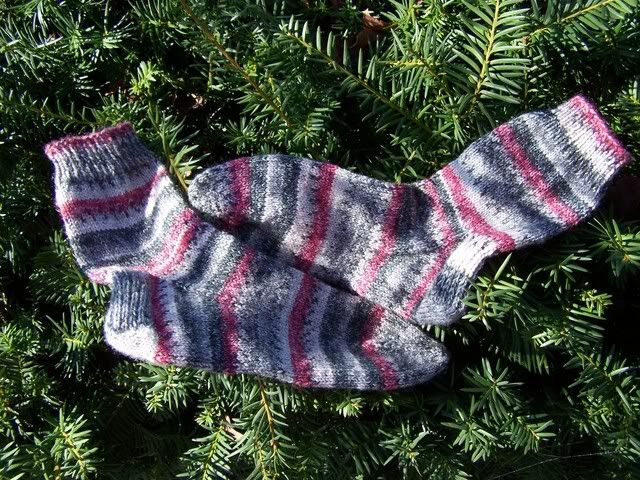 And I do!
Specs:
Yarn:
Plymouth Encore Sock DK (they're OSU colors!)
Needles:
Size 3
Pattern:
No pattern, I just cast on 54 sts, knit some ribbing, stockinette cuff, reinforced heel flap with a Round Heel courtesy of
Heels By Number
(I followed the 52 st directions). Knit a foot long enough for 12.5 US Mens' and make a toe.
For:
My step father. He requested a pair last year and well it took a little while but I got 'em!
My second project isn't finished yet, but I took an in Progress pic: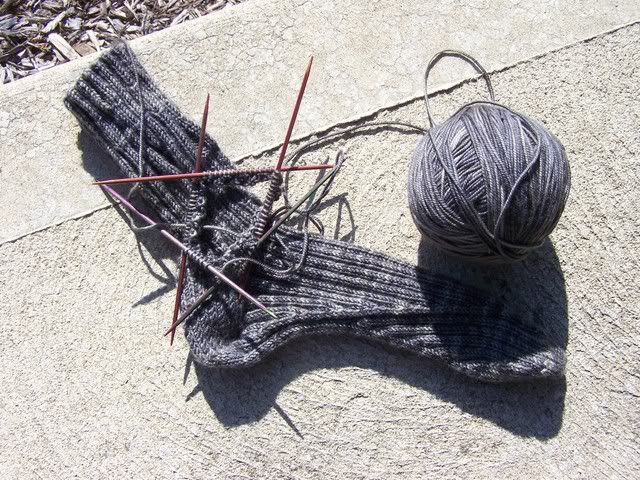 These are for my dad in the STR Mediumweight I bought at Rhinebeck. I love the way these are turning out. You can find the pattern
here
. I've loved these socks ever since I saw the
Yarn Harlot's
. The shaping on the foot is just so attractive and the pattern is really cleverly written, I would reccomend it to anyone. I'll probably be making myself a pair of these as well... eventually. And that's saying something considering how much I dislike knitting ribbing. I'm finished with the gusset on my 2nd sock and on to the foot. It'll be finished by the end of the week. Thursday probably (Thursdays are one of my days off).
Oh, and also, do you see the bit of mulch in the upper left hand corner of that photo? The finished Francie (Or Frankie as I like to think of them) sock ended up being left behind after the photo shoot and spent 3 lonely days hanging out with the mulch. I freaked when I found it, but it wasn't damaged by weather or bleached by the sun. Yay STR!
I'm also making a shawl for my grandmother. No worries, not complicated lace. Just some warm garter stitch. It's
Wool Weaver's Mini Shawl
. I'm knitting it with
Knit Picks Gloss Heavy Worsted
in Oregano. I'm ~80% done. I have less than half of a 1 of the 2 skeins left so that may be finished by the end of the week also.