Frankie socks are finished! I worked on them today while watching my DVR'd shows (
Heroes
,
Glee
, and
ANTM
... it would have been
Eastwick
too but it wasn't on last night). I had to fudge the toe on the 2nd sock because I changed it from the pattern directions and I (very smartly) didn't write it down. It's at times like those when being able to read your knitting comes in handy!
Today has been amazing, by the way. My boyfriend finally got a day job (Working at Safelite as well, actually) and he's at training today so I had the house to myself. I knit and watched TV today. I also had a photo shoot (that you will see the results of shortly) and an amazing hot shower (After which I immediately put on a sweatshirt and socks because I was cold before and if you put that stuff on right afterwards you stay toasty warm and retain all the heat from the shower [Parentheses seem to be my friend today]).
I have dinner in process, I'm just waiting to get it in the oven. What's on the menu? Pre marinated turkey tenderloin, roasted sweet potatoes with some butter and brown sugar, twice baked cheesy garlic potatoes, salad, and an apple cobbler for dessert made with local apples. After I finish this (or in the middle, depending on how long this takes) I'll go get everything but the potatoes in the oven and in an hour or so dinner will be ready.
So, without further ado, I give you, Frankie Socks: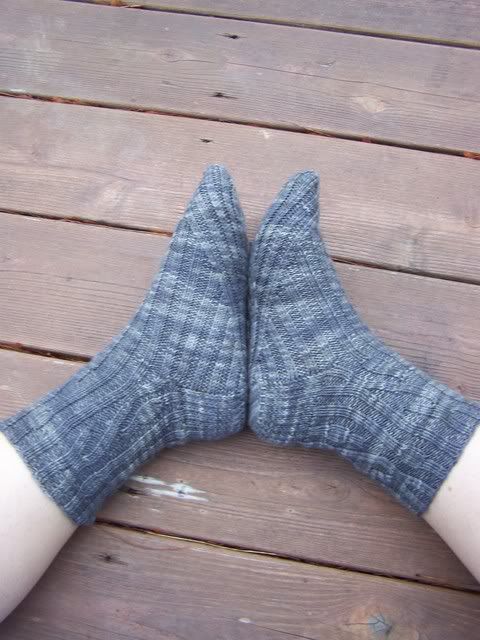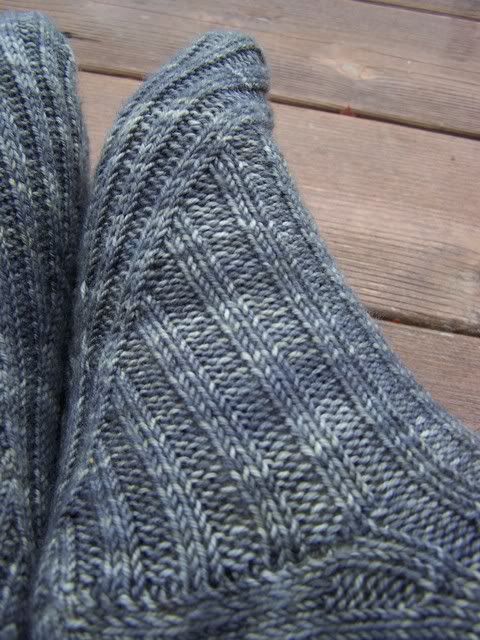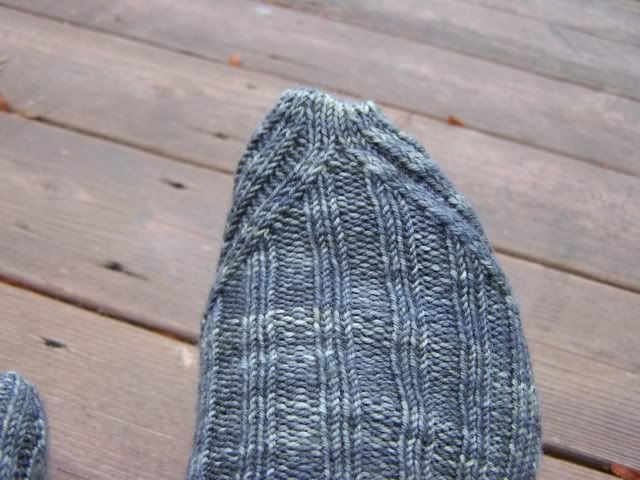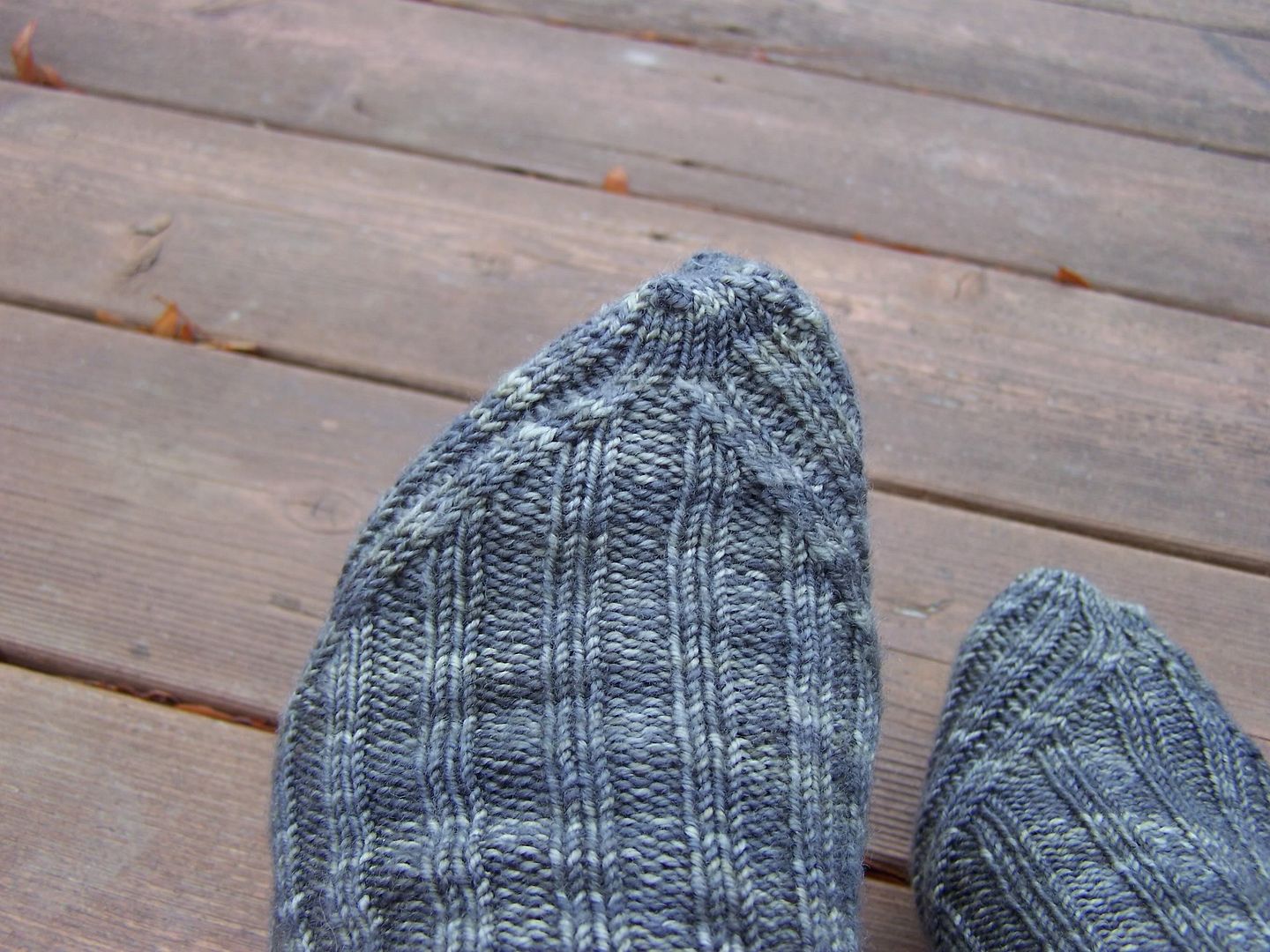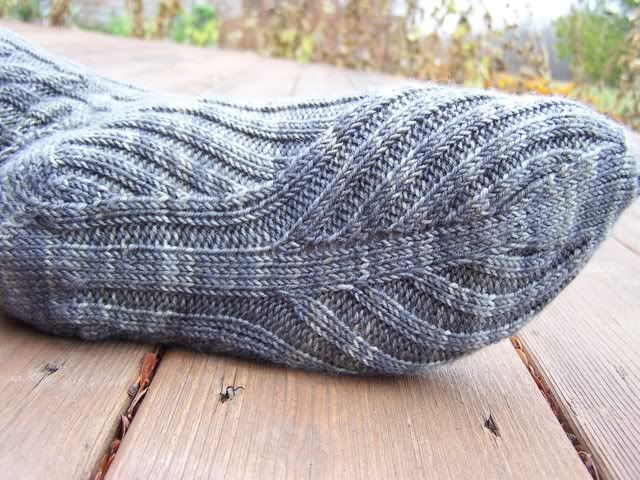 Specs:Yarn:
Socks that Rock Mediumweight in Manly, Yes! But I like it too!
Needles:
Size 2
Pattern:
Francie Socks
[
Ravel it!
] by
Rebekkah Kerner
Mods:
I used size 2 needles and a heavier yarn.
I only did 1.5 repeats of the leg chart
I did fewer rows on the heel flap (due to different row gauge). This, however, ended up affecting the rest of the sock because I couldn't pick up the right amount of stitches for the gusset and I ended up use a KFB to increase so the ribbing flowed (I did this on the 2nd knit stitch, the little bump from the KFB looks like a purl stitch so it's a really easy and practically seamless ribbing increase).
I changed the toe. Because of the row gauge difference, the socks were long enough before the travelling ribs met in the middle. So, I just kept that up and in the column of 8 knit stitches (I started toe decreases after a knit increase) I decreased in a similar manner. After that, I got rid of all of the remaining purl stitches and then did a final round of decreases, leaving me with 20 sts that I grafted.
Thoughts: I really loved this pattern and I am seriously considering making myself a pair of these socks in the near future. The pattern is interesting and just challenging enough so that it's not boring, but it makes for pretty good TV knitting. However, as you can see in the photo of the foot the left leaning increase, assuming I did it correctly leaves holes along the bottom. I am hoping that this works itself out a little with blocking, though. They're currently drying.
The pattern is very well thought out and involves a lot of detail so it's pretty easy to modify. It is a pattern that you have to pay for but I think it's worth the money. I love the results and I'm a little sad that these are going to be a Christmas present.
For: My dad!
As you can see in the toe shots above I hade a little oopsie when it came to grafting the toes. On the first sock I did it the wrong direction! I figure I'll pick it all out and fix it sometime before I gift them, or maybe not, it makes them extra unique, right? The thing is that I can't figure out which way I like better, although neither of them are particularly appealing.
Something else great about these socks....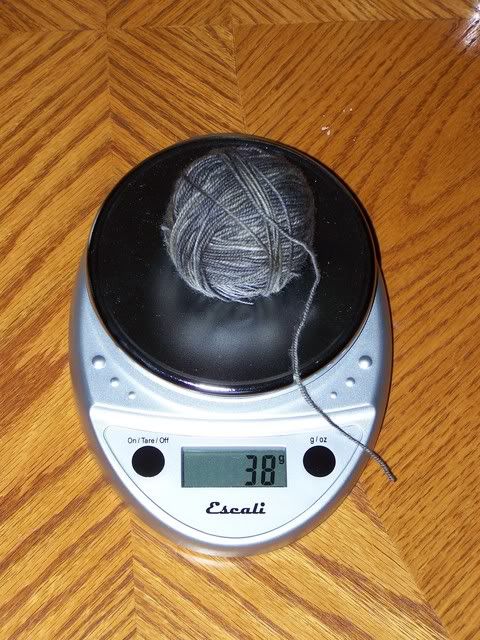 The leftovers! That's about 1.4 oz for anyone who's not impressed with 38 grams. ;-) I'll keep it around until after Christmas but it may become a smaller version of a toy from Amigurumi Knits, an awesome, awesome book I got from Knit Picks.
Till next time!