First order of business is that I totally meant to link Sarah's design in my last post so I'm going to do it here and now. Sara's blog is
The Knottygnome Knits
where she knits and spins and makes all sorts of awesome things at break neck speeds. The shawl is called
Walden
[
Ravlink
] and it a crochet pattern. There are some great photos of the shawl there. You can also get to her
knit patterns
through her blog. She sells most of them thorugh Ravelry a hat and mitt set are available at
Knit Picks
. She also has a couple of free patterns thrown in there.
Okay so this I think is a post about blogger prowess because I also want to talk about the
Pavlova
that I made on Saturday. First of all, it was omgdelish. Second of all, I almost went into a sugar coma after I ate it. It all began with
this post
from chef
Loise Mellor
. I was reading her post and thinking about how I've seen Ina Garden make Pavlova on The Barefoot Contessa a few times. It always looks so delicious. Light, ethereal, baked meringue crisp on the outside and chewy in the middle, smothered in berries, whipped cream, and raspberry sauce. I also clicked her link to
Have the Cake
a shared effort of bloggers who make the same recipe every month. Which this month it was, of course, Pavlova. This is where I saw Dawn's "
Eggy Pavlova
" which, as odd as the name sounds (I like her idea of "Swan's Egg" better but that may just be me) was an awesome idea. She made lemon curd to go in the pavlova (the yellow yolk to the egg white of the meringue Pavlova). This to me was not only a tasty solution put a perfect match with the Pavlova since the Pavlova uses 4 egg whites and the lemon curd uses 4 egg yolks.
So, I bought the ingredients and charged ahead with Lousie's Pavlova base (minus the almond extract and almonds) and Dawn's lemon curd. I also made some home made whipped cream and garnished with raspberries. It was the most time I've spent on a dessert in a very long time. Probably since baking for Christmas.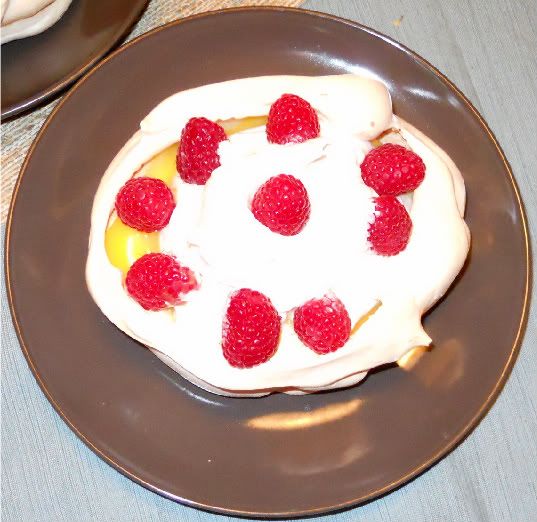 The results were not only pretty but delicious. This came after a delectable dinner of marinated grilled chicken, grilled veggies, and home made grilled flat bread. It was a truly great summer meal.