Soooo I told you all that I ordered
this spindle
. It arrived (to my glee) on Saturday and I immediately took it out and admired it: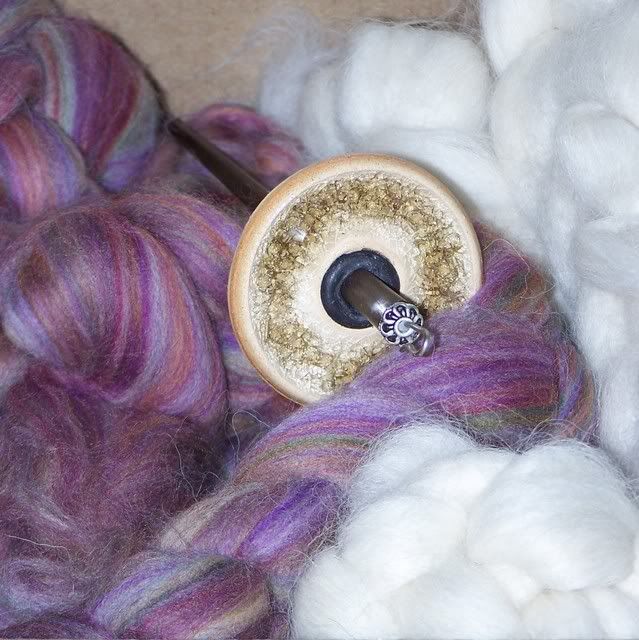 (Plz excuse flash photography)
I also admired the gorgeous fiber that
Jesh
was kind enough to send me to get started on. =) The pink is some Corriedale, and the white is Alpaca. Love it! You can see some of the pink spun up on
Jesh's blog
.
I ordered the spindle after talking to Jesh on a whim because Heavenly Creations was having a spindle spinning class the 28th. So I signed up and ordered my spindle. However, to my dismay, the class had to be canceled due to a wrist surgery that the teacher had to have. Bleh. So I bought some black Shetland to use as a practice fiber since the stuff Jesh sent is too pretty to make crappy yarn out of.. hehe.
But, it was a little difficult trying to do it myself using
Youtube videos
as teachers. So I did a little
research
and found out that Shetland is
difficult for beginners to spin
. Sooo I tried out the Alpaca for a little bit. I didn't do much better with that. Boo. It seems Spinning isn't as easy to teach ones self as knitting.
But, ah a silver lining! The class is rescheduled for the 14th of March and I'm sooo there. =)
So, I have another confession. I haven't been working out. At all. Yuck. I lost about 8 lbs by the end of January, and I had an extremely busy week where I gave up on any kind of exercise or eating properly, and that carried through February until, well, today.
I gained 2.5 lbs back of the 8 that I lost, which is depressing a little. But I am taking steps to make sure I have better success than I did last time.
I've been trying to lose weight since I was in middle school, and I've obviously never done a very good job of it. January was the most progress I've made in a long time. A lot of that progress was due to sparkpeople.com, where I tracked everything I ate everyday and so I got a healthy dose of reality when it came to what I was actually eating. Obviously when I fell off track I stopped tracking everything I ate.
The reason I'm posting about this is to keep myself more responsible about what I'm doing- if I'm keeping track of it publicly I'm less likely (In theory) to 'fall off the bandwagon' I took a step towards that in January, when I put up that weight loss tracker on the side of my blog. But I stopped reporting to that too when I stopped losing weight.
So I'm counting on some of my regular readers to keep me in line (I mean like.. leave me a comment saying "You didn't check in, missy!" ;-]). I plan on doing a mini check in about 3 days a week on my exercise. Nothing major, just a sentence or two at the end of a blog post, because I don't want to turn this into a boring "I worked out on the elliptical for 30 minutes today, and I ate..." blog. I decided to start the
Couch to 5K running plan
which has a 10 week schedule. I think that working towards a goal with my exercise instead of just thinking that I need to do it will also be a help.
Another step I've taken towards this goal is to sign up for a Weight Training class next quarter. This class will be M/W/F 8:30-9:18 (I know, our class periods are odd). Hopefully this class will teach me proper strength training techniques and get me a little more toned for vacation in June.
So, here are my goals:
1) Check in on Tuesday, Thursday, and Saturday or Sunday with an update of the Couch to 5K running plan (Ex.: "Workout 1 Week 1 completed).
2) Weigh in on Thursday mornings and update the tracker
3) 185 by 3/30/2009
4) 170 by 6/7/2009
5) Track daily calories on www.sparkpeople.com
Today I completed Workout 1 of Week 1. =)