I finished my pillow this morning. =) I ended up stuffing it with batting because A) It was on sale, B) I knew regular stuffing would probably be disaster, and C) I finished it without getting more yarn so it's only 18X11 instead of 18X12.
My boyfriend loves it. He's espeically fond of the colors.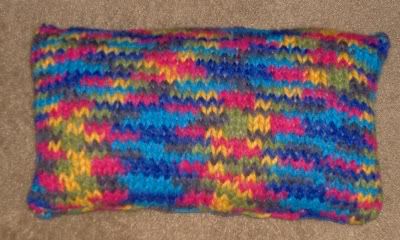 So if you want to know how to make it, here goes:
Tension: 7 sts by 10 rows to a 4" square
Materials:
-2 skiens Encore Mega Color Spun (Extra bulky) (100 G, 64 yds per skien) *NOTE- If you want to make the pillow 18X12 so you can use a form instead of batting, you'll need 3 skiens
-1 set size 15 needles (10mm)
-45" x 60" (112.5 cm x 150 cm) batting for stuffing
-1 tapestry needle
Pillow:
Cast on 32 sts (I used long tail) work in stockinette stitch until the piece measures 22" ( 24" if you're using the form)
Finishing:
Block first! I used steam, as it's an acrylic/wool blend it worked nicely.
Weave in unnecessary ends, leaving enough for the mattress stitching.
Right sides together,
backstitch
the long side together.
Turn it right side out and
mattress stitch
up one side.
Stuff with the batting (You'll have to fool around a bit with it, I folded it up like an accordion, trimmed the sides and stuffed, then I cut bits off of the extra to stuff it until it was even)
Mattress stitch up the remaining side.
Voila!
Pretty easy. =)
I also started a scarf with OSU colors (Scarlet and Gray) the picture doesn't show the patterns at all, I'm doing it like a series of swatches. I started out in diamond brocade and I'm doing ripples right now. Next is moss stitching. =)