...that I haven't posted this week! I kept thinking about the Shalom sweater post and how it was "Just on Tuesday" but that was over a week ago! Alright, so on that same snow day I got the BF to take some FO pictures of my Vine Yoke Cardigan that I finished
way back when
.
Vine Yoke Cardigan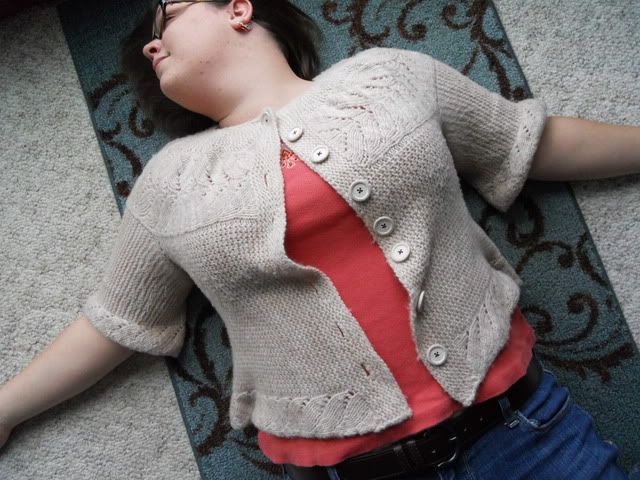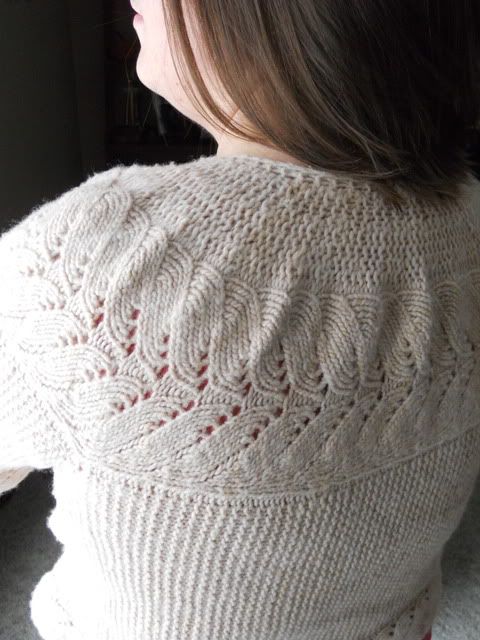 Specs:
Yarn:
Malabrigo Merino Worsted in "Simply Taupe"
Needles:
Size 9
Pattern:
Vine Yoke Cardigan
[
Ravel it!
] by
Ysolda Teagues
Mods:
My gauge was smaller so I followed the directions for one size larger. If I were to do that again in this same yarn, then I would cast on the number of stitches for 2 sizes larger but follow the directions for 1 size larger, so the sweater would be longer. It blocked to be a lot longer than it was on the needles but i would still like it to be longer than it is.
Thoughts:
Really great pattern, as usual. I love the side to side construction, although that does make it a bit difficult to add elements for a custom fit. As you can see the Malabrigo has held up pretty well in this loose gauge sweater. There has been pilling, but you'll have that with almost any wool sweater, especially a fine wool like merino. I love the color of this sweater and I wore it fairly often when it was a little warmer out. Now the half sleeves aren't long enough and they bunch up under my winter coat.