I've been thinking about taking a spinning class at Heavenly Creations for a couple of weeks now, but I kept telling myself that I didn't want to because I don't need another fiber related hobby (and I don't even have enough storage room for my yarn, let alone fiber). However, I recently joined a
Ravelry group
and have been regularly posting in one of the
threads
, and one of the
Mods
makes spindles
and recently even put a Rav add up for her shop and I finally caved and bought a
gorgeous spindle
. (How's that for a run on sentence?)
I have no will power. ;-)
Also, THE POST OFFICE WAS OPEN!!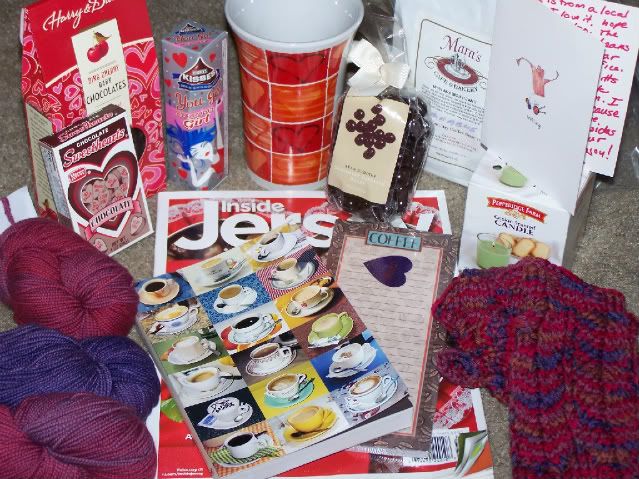 Roll call:
3 tester skeins of MALABRIGO SOCK I've been DYING to try this yarn!! It's Violetas and Cereza. Love!
An adorable coffee mug with hearts on it
A pair of fingerless mitts (which I am currently wearing!)
A coffee notepad as well as a coffee journal
An Inside Jersey Magazine
A Mint Milano Candle
Chocolate covered espresso beans, can you say yum?
Bing cherry chocolates, currently enjoying!
Hershey's Kisses
Chocolate Sweethearts
Last but not least a pound of amazing smelling coffee beans, they're from a local (to my Spoiler) roaster and I can't wait to try them!
Finally!! =D
Thanks to
Ria
for a great swap package!